Current Main Purpose and Activities of the IIIS
The International Institute of Informatics and Systemics (IIIS) is a multi-disciplinary organization for inter-disciplinary communication and integration. Consequently, a main purpose of the IIIS is to foster knowledge integration processes, interdisciplinary communication, and integration of academic Activities. Based on 1) the trandisciplinarity of the systemic approach along with its essential characteristic of emphasizing relationships and integrating processes, and 2) on the multi-disciplinary support of cybernetics' and informatics' concepts, notions, theories, technologies, and tools, the IIIS has been organizing multi-disciplinary conferences as a platform for fostering inter-disciplinary communication and knowledge integration processes.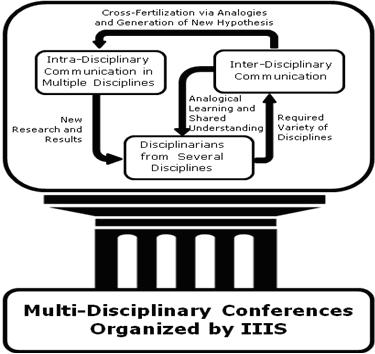 Multi-disciplinary conferences are organized by the IIIS as support for both intra- and inter-disciplinary communication. Processes of intra-disciplinary communication are mainly achieved via traditional paper presentations in corresponding disciplines, while conversational sessions, regarding trans- and inter-disciplinary topics, are among the means used for inter-disciplinary communication. Intra- and inter-disciplinary communications might generate co-regulative cybernetic loops, via negative feedback, and synergic relationships, via positive feedback loops, in which both kinds of communications could increase their respective effectiveness. Figure 1 shows at least two cybernetic loops if intra- and inter-disciplinary are adequately related. A necessary condition for the effectiveness of Inter-disciplinary communication is an adequate level of variety regarding the participating disciplines. Analogical thinking and learning processes of disciplinarians depend on it; which in turn are potential sources of the creative tension required for cross-fertilization among disciplines and the generations of new hypothesis. An extended presentation regarding this issue can be found at www.iiis.org/MainPurpose
Intra- and Inter-Disciplinary Presentations at IIIS conferences
The multi-disciplinary conferences organized by the IIIS include intra-disciplinary presentations in different disciplines and inter-disciplinary communication via formal presentations, informal conversational sessions, and hybrid ones. Frequently, the IIIS allows authors of disciplinary presentations to make additional presentation, with no additional cost, in order to foster inter-disciplinary communication which might generate the fertile analogies, working hypothesis, and inter-disciplinary research and real life problem solving. More on the meaning and importance of "interdisciplinary communication" can be found at www.iiis.org/Nagib-Callaos/Interdisciplinary-communication. The IIIS is also trying to foster conference presentations in 1) Inter-disciplinary Research, Education, and problem solving, 2) in Academic Activities Integration, and 3) in inter-, cross-, and trans-disciplinary areas like Case Studies and Methodologies, Design, Modeling, Simulation, Systemics, Cybernetics, Informatics, Expansion of Science, Knowledge Generation, Communication, and Management, etc.
Currently three complementary events, related to interdisciplinary communication and knowledge integration are part of what is common to the three conferences being yearly organized by the IIIS. Figure 2 schematize the three events and the relationships among them.


Figure 2
Information Related to Recent Past Conferences
Information related to the following issues is provided at
www.iiis.org/recentconferences.asp
for conferences organized since 2011.
Videos of the plenary keynote addresses and workshops.
Conference Program
Proceedings
Plenary Keynote speakers at the 2013 conferences
Double-Blind conference reviewers and the papers they reviewed
Non-Blind conference reviewers and the papers they reviewed
Co-Editors of the 2013 conferences proceedings
Sessions' Co-Chairs
Sessions' Best Papers
Invited Sessions Organizers.
Information related to the following issues are provided for all conferences since 2000, via menu option "Past conferences" in IIIS home page
www.iiis.org
Co-Editors of the conferences proceedings
Sessions' Co-Chairs
Sessions' Best Papers
Invited Sessions Organizers
The Journal of Systemics, Cybernetics, and Informatics (JSCI)
New Advisory Editorial Board has been organized. Its members are shown at www.iiisci.org/journal/sci/EditBoard.asp
Since 2003, we published in six regular issues each year the best 25%-30% of the papers presented at IIIS conferences (equivalent to the 12%-18% of the articles submitted to the respective conferences), a second phase is being launched which objective is to make the journal autonomous from the IIIS. This autonomy is oriented to the financial aspect as well as to the content of the journal. More details regarding what is planned for the second phase of the journal can be found at www.iiisci.org/journal/sci/Pre-Planning.pdf
Similar changes will be done to the Hispano-American Journal published in Spanish and Portuguese (Revista Ibero-Americana de Sistemas, Cibernética e Informática, RISCI, www.iiisci.org/Journal/riSCI/) in order to also make it autonomous from IIIS.
Current Planned Projects
Projects with ongoing implementation
To provide IIIS' members with the required support from Web 2:0 technologies in order to accelerate the process of a Virtual Community interested in meeting IIIS' main purpose and the shared objectives of IIIS' members. First small steps has been given inserting, into WordPress blogs, plenary keynote videos and papers presented at the conference and published in the respective proceedings. Though the access and the possibility of commenting the presentations and the papers in the context of these blogs are open to the general public, it might help the formation of virtual community among the participants in the respective conference.
To start the second phase of the journals being published by the IIIS in order to make the autonomous from the financial and the content support IIIS has been providing since they were started it in 2003.
Planned projects which implementation has not started yet

To provide the IIIS' members access to the virtual sessions of the conference being held. Currently, each virtual face-to-face session has a corresponding virtual session in which conference participants can access any virtual session, 5 days before the face-to-face conference, and up to 2 months after the conference is over. Having this access they may read the papers presented at each session and can comment and/or evaluate each paper of the respective session via electronic forums.
To promote the formation of Inter-National, Inter-Disciplinary, and Integration Groups (IIIG) in important academic and professional areas. IIIGs are being considered in at least the following synergically related areas (associated to those mentioned above)

Academic Activities Integration
Interdisciplinarity and Knowledge Integration.
Inter-disciplinary Communication
Case Studies and Methodologies

To start up, foster, and support the formation and consolidation of an Inter-National Multi-Disciplinary Organization for Inter-Disciplinary Research and Communication (IMOIRC); which has the initial main objective of providing support to those disciplinarians who

understand the importance of inter-disciplinary research and communication and
are willing to inform scholars and professionals of other disciplines regarding

their disciplinary research or technological innovations, and/or
updates of what has been achieved in their respective disciplines by means of literature review or meta-analysis papers.
Both (a) and (b) might be achieved by


communications (articles, presentations, videos, etc) made specifically for inter-disciplinary communication and/or
disciplinary articles which include a section or an appendix oriented to inter-disciplinary communication.

More details regarding this issue can be found at www.iiis.org/IMOIRC.asp


To promote the self-transcendence* of the IIIS into an International, Interdisciplinary, and integrative Network (IIIN); which will be formed by geographical or disciplinary, cross-disciplinary, or interdisciplinary nodes. Geographical nodes might be formed at the regional, national, or local level. Inter-National nodes would be formed by scholars and/or professionals with common interest in 1) disciplinary fileds but oriented for inter-disciplinary communication, 2) multi-disciplinary projects, or 3) cross-, inter-, or transdisiplinary concepts, theories, or methodologies. The IIIGs mentioned above are candidates for this kind of nodes. The IIIS plan is to serve as incubator of 1) these nodes and 2) the required relationships among them in order to transform them into a Network, in which IIIS will be included as one of the node while preparing its self-transcendence.


* The word transcendence is used in its etymological meaning of "self-pass its own limits, to go beyond itself." In this sense the IIIS is planning to contribute to the formation of something greater than itself before the potential stopping its existence.