Call for Participation in a Conference's Special Track and Journal's Special Issue on
Qualitative Research and Integrating Academic Activities:
Research, Education and Real Life Problem Solving (QR-IAA 2018)

WMSCI/IMSCI 2018 on July 8-11, 2018, in Orlando, Florida, USA, and
The Journal of Systemics, Cybernetics and Informatics
Publications
All accepted and presented articles will be included in the WMSCI/IMSCI 2018 proceedings which have been indexed by Scopus since 2005. IIIS will continue to send the proceedings of all its conferences for their respective indexation.
A special issue of the
Journal of Systemics, Cybernetics, and Informatics (JSCI)
will be published on
Integrating Academic Activities and Qualitative Research
, if an adequate number of articles are submitted, accepted and, consequently, presented at the conference. Otherwise, best papers will be published in regular issues. JSCI is
indexed by EBSCO, Cabell, DOAJ
(Directory of Open Access Journals), Academic Journals Database, and Google Scholar and
listed in
Cabell Directory of Publishing Opportunities and in Ulrich's Periodical Directory.
About the Journal of Systemics, Cybernetics, and Informatics (JSCI)
JSCI was asked by the Directory of Open Access Journals (DOAJ) to re-apply because DOAJ identified more rigorous criteria to list journals in its directory and to index them. After re-applying the Journal was accepted again with the following new benefits (we are making a copy and paste from the email we received form them):
Benefits of supplying DOAJ with metadata:
- Our statistics show more than 900 000 page views and 300 000 unique visitors a month to DOAJ from all over the world.
- Many aggregators, databases, libraries, publishers and search portals collect our free metadata and include it in their products. Examples are Scopus, Serial Solutions and EBSCO.
- DOAJ is OAI compliant and once an article is in DOAJ, it is automatically harvestable.
- DOAJ is OpenURL compliant and once an article is in DOAJ, it is automatically linkable.
- Over 95% of the DOAJ Publisher community said that DOAJ is important for increasing their journal's visibility
- DOAJ is often cited as a source of quality, open access journals in research and scholarly publishing circles.


We are supplying our Journal's meta-data to DOAJ;
which is frequently referenced as a white list for electronic open access journals.
Relationships between Integrating Academic Activities and Qualitative Research
Integration of Academic activities (including research via consulting and consulting via research) and Qualitative Research and Modeling 1)
intersect
each other in several areas and 2) have explicit or implicit, potential or actual
cybernetic loops
of co-regulation (negative forward and feedforward) and co-amplification (positive feedback) which might produce synergies and emergent properties beneficial to both of them. The following figure summarizes visually the relationships between Academic Integration and Qualitative Research: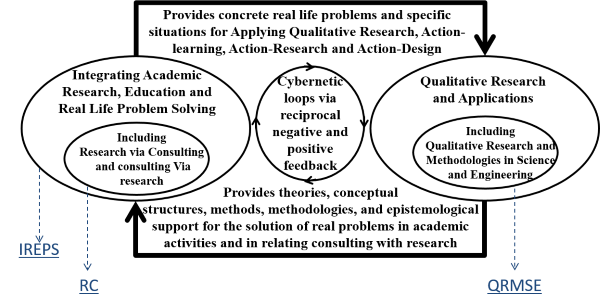 Cross Disciplinary Applications Via Analogical Thinking
Because of the actual and potential relationships shown above, a presentation on a topic in any of the three areas shown above might generate an application in other area via
analogical thinking
. This kind of a applications may be potential hypothesis formulation, solution to a real life problem in other area, methodological transfer from one area to the other, reformulations of concepts in other intellectual contexts, learning be means of inter-disciplinary communication, productive reflections, intellectual intuitions, creativity, potential methodological innovations in both academic, socio-economic, or business activities, etc. Consequently, presentation in any of the three non-exclusive set of topics listed below are expected to generate reflection, analogical thinking, intellectual intuitions, and potential applications in the mind of attendees from other sets of topics.
Who is encouraged to Participate in this Event
This event is especially (but not uniquely) oriented to the following academics, researchers, and professionals or consultants:
Those who participated in the design, implementation, and/or administration of organizations oriented to integrate academic activities or relate "Research and Consulting."
Those who have been on working in relating research and education, education and real life problem solving, research, education and real life problem solving or in organizations of "Research and Consulting", or have done an ad hoc work in some of them.
Those academics who have done research via consulting.
Those consultants who have done consulting via research.
Those who have experience and/or knowledge to share regarding the relationships among academic activities and between research and consulting.
Those who have to generate or use qualitative research and/or modeling in any of the above applications or other related ones.
Those who are doing qualitative research and, consequently, are using the respective methodologies for theory formation or generating solution to real life problem solving which multi-disciplinary nature require inter-disciplinary communication, hence natural language using, hence qualitative or hybrid methodologies.
Ways of participating in this event
An academic, researcher, professional, or consultant might participate in this event submitting a contributed article which, if accepted, will be included in the conference program. This article might be:
A research and/or a reflection paper regarding the integration of academic activities or the relationships between research and consulting.
A case study, or the description of a specific case in which academic activites have been integrated or research was done via consulting or consulting was done via research. Such a case can be related to any of the topics of the collocated events and conferences.
A position paper regarding the participation of a university's faculties in integrating academic activities, in search via consulting or consulting via research.
An article regarding the conception, design, and/or the implementation of an organization oriented to the integration of academic activities or relating "research and consulting".
An article describing the different legal and structural forms in which an organization of research and development has been integrated into an academic context in order to synergistically relate the academic organization to the private and public sector and, in general, to Society.
An article describing a seminar delivered in the private or public sector that generated the integration of academic activities or new projects based on relating "research and Consulting", of consulting based new hypothesis formulation, new reflections, new research, case studies, etc.
SUGGESTED NON-EXCLUSIVE TOPICS
Any of the following three sets associated with the three mentioned areas or tracks, as well as any hybrid topic that might relate two or more topics in the same set or in different sets. Articles related topics from different set are encouraged because they would represent the relatedness among these areas as shown in the figure above.
Suggested, non Exclusive, Topics on Integrating Academic Activities: Research, Education and Real Life Problem Solving


Relating research and education
Relating research and real life problem solving
Relating research and consulting: research via consulting and consulting via research
Relating research and education
Research Education
Educational Research
Relationships between research and teaching. Teaching via collaborative research
esearching via teaching or educational action research
Relationships between research and practice
Integrating research, teaching and consulting or practice
Action research applied to the Integration of Academic Activities
Qualitative and hybrid research applied to the Integration of Academic Activities
Relating research with innovation
Research programs and projects engineering
Application of Action Research in the integration of academic activities
Application of case studies in the integration of academic activities



Suggested, non Exclusive, Topics on Research and Consulting


Relationships between Research and consulting
Research via consulting
Consulting via research
Relating research and consulting as a way of integrating academic research to industry, public and private sectors, and the Society at large.
Application of Action Research in the integration of research and consulting
Application of case studies in relating research and consulting
Application of Action Research in the integration of research and practice
Application of case studies in relating research and practice



Suggested, Non-Exclusive Topics in Qualitative Research, Methodologies and Applications


Qualitative Research and Methodologies in Social Sciences
Qualitative Research and Methodologies in Science and Engineering Education
The problem of induction as a qualitative aspect of quantitative research
Phenomenological Research
Ethnography
Deduction as a quantitative method and induction as qualitative method
Grounded Theory Research
Case Studies
Action-Research
Qualitative Studies
Qualitative Research Design
Virtual Ethnography
Data Collection Techniques and Analysis in Qualitative Research
Education and Qualitative Research/Methods
Philosophical foundations of science in term of the nature of knowledge revealed by quantitative and qualitative methods
Qualitative Case Studies and Methodologies
On-Line Research: Technologies, Methodologies, and Case Studies.
Qualitative Digital Research
Research of, and/or via, Social Media
Creativity and Qualitative Research/Methods Creativity and Qualitative Research/Methods
Creativity and Qualitative Research/Methods
Qualitative Research/Methodologies in Management and Organizations
Qualitative Research in Design
Qualitative Research/Methodologies in Information Systems
Qualitative Research/Methodologies in Systems Engineering
Qualitative Research/Methodologies and Software Engineering
Qualitative Research/Methodologies and Knowledge Engineering
Qualitative Research/Methodologies and Collaborative Research/Enquiry
Qualitative Research/Methodologies in non-Traditional Engineering Fields