Professor Ranulph Glanville (1946-2014) Memorial Award
The International Institute of Informatics and Systemics (IIIS) established awards in memory of those whose lives were oriented by the same ethical, epistemological, and intellectual founding values of the IIIS and who supported and helped in the foundations and/or the activities of the Institute. Among these founding values are those of ethical integrity, epistemological pluralism, and intellectual tolerance. These values are necessary conditions for an honest and effective inter-disciplinary communications fostering of which is a main purpose of the IIIS.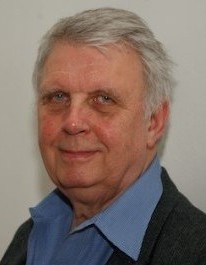 Professor Ranulph Glanville was characterized by the Royal College of Arts (a research university in the United Kingdom) as "a superstar cybernetician, design thinker, architect, artist and musician with three PhDs, the first of which was supervised by Gordon Pask, one of the godfathers of cybernetics."

Professor Glanville was a frequent plenary keynote speaker at the IIIS conferences. He also helped fostering conversational sessions in these conferences and implemented similar sessions at conferences organized by the American Association of Cybernetics, president of which he was in two periods.

Professor Glanville was an architect, intellectual and an artist, excelling as professional and as academic. He was professor in Architecture and Design, in several countries (mainly in the UK and Australia) and a highly respected intellectual and researcher in Cybernetics. His multi- and trans-disciplinary knowledge and experience allowed him to be a significantly effective academic as well as in inter-disciplinary communication and research. This effectiveness allowed him to be intellectually productive in the trans-disciplinary concepts, theories and methodologies of Design and Cybernetics.

Professor Glanville excelled also in several disciplines as well as in relating them via analogical thinking. This allowed him to create new hypothesis that were input to disciplinary logical thinking. This is why he also excelled 1) in effectively relating creative imagination, intellectual reflection, and logical thinking, 2) in wisely fostering inter- and trans-disciplinary communication in conferences organized by the IIIS and, 3) in helping and supporting the achievement of this main founding purpose of the IIIS.

Awardees are selected from those who excelled in Professor Glanville's Epistemological, praxiological, and ethical values as well as in his academic, research, and/or professional achievements.



Awardees






2015

Professor Stuart A. Umpleby

The George Washington University, USA

School of Business, Department of Management

Research Program in Social and Organizational Learning

Former President of The American Society of Cybernetics





---




2016

Dr. Karl H. Müller

Director of The Steinbeis Transfer Center New Cybernetics, Vienna, Austria

Professor at the University of Ljubljana, Slovenia

Former Director of WISDOM

(Wiener Institute for Social Science Documentation)

Former Head of Political Science and Sociology Departments of the Institute for Advanced Studies, Vienna

Among his most recent books are:
- Towards a New Kind of Social Science. Social Research in the Context of Science II and RISC-Societies (2012)
- New Cybernetics. The Structure of a Scientific Revolution (2014), (with Brina Malnar)
- Surveys and Self-Reflexivity. A Second-Order Study of the European Social Survey (ESS) (2014)





---




2017

Professor Thomas Marlowe

Seton Hall University (New Jersey), USA
Department of Mathematics and Computer Science

Ph.D. (Mathematics), 1975, Rutgers University
Ph.D. (Computer Science), 1989, Rutgers University

Founder, Conference on Languages, Compilers & Tools for Embedded Systems
Member, Editorial Board, Journal of Systemics, Cybernetics and Informatics
Member, Advisory Board, International Association for Internet and Digital Ethics

Refereed publications in abstract algebra, algorithms, compilation and program optimization, real-time systems, software engineering, knowledge management, information science and technology management, pedagogy, collaboration, and interdisciplinary studies.





---




2018

Professor T. Grandon Gill

University of South Florida, USA
Academic Director of the Doctorate of Business Administration

Editor-in-Chief of Informing Science

Editor of the Journal of IT Education

Founding Editor of Journal of Information Technology Education

Author of the books "Informing with the Case Method" and "Informing Business: Research and Education on a Rugged Landscape"

Internationally known for his research in the development and use of case studies and is currently working on a grant with the National Science Foundation to develop discussion case studies relating to Cybersecurity





---




2019

Fr. Dr. Joseph Laracy

Seton Hall University, USA

College of Arts and Sciences

Department of Mathematics and Computer Science and
Department of Catholic Studies

Complex Systems, Differential Equations, and Dynamical Systems

Professor of Systematic Theology at Immaculate Conception Seminary





---